MISSION:
Trempler Family Farms, LLC believes that our actions have a direct impact on our community, environment, and the world. We strive to grow the best produce, ethically, using organic permaculture practices.
ABOUT ME:
My name is Lindsey Trempler and I'm the proud owner of Trempler Family Farms, LLC since 2016. I feel privileged that you're letting me be your farmer and bringing the food I nurtured home to feed you and your family. I grew up in rural Michigan surrounded by farms. As a teenager, I picked asparagus and my family always had a large garden and, at times, pigs and chickens. I grew up, went to college, and worked in the medical field for almost ten years. Over the years, I realized it's important to know your farmer.  And so, Trempler Family Farms began. In 2018, Trempler Family Farms expanded to include an additional 1/2 acre. In 2019, I built my first high tunnel and in 2022, my second high tunnel.
If you ever have any questions, please don't hesitate to contact me.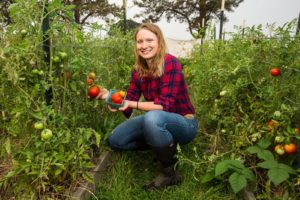 Share This: