🍅 Trempler Family Farms hosts a CSA that is non traditional, relaxed and perfect for singles and small families. Click here to learn more. 🍓
11/8/2022 UPDATE: The 2023 CSA is filled.  If you'd like to be contacted for the waitlist, please email me at tremplerfamilyfarms@gmail.com. 
Didn't get into the 2023 CSA? At times, emergencies arise or life happens and a person needs to cancel their CSA early or miss for an extended period of time. Are you interested in being on a non-traditional & relaxed $15-$25/week CSA waitlist? If you'd like to join the waitlist please email me at tremplerfamilyfarms@gmail.com. Then check out the CSA page. 
CSA members click here for CSA details. 
The Tuesday Farmer's Market is at 1465 SE Alexander Ave in South Corvallis from 5pm-7pm. I accept cash and credit, Kuto, as well as payment apps at the market. The market will begin again on May 2 2023 and ends on October 31st.
👉Remember to take a look to the right of this screen for Trempler Family Farms closures and events. 👉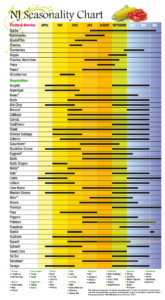 The above chart was designed for NJ, but lines up with our seasons very well.
Share This: