🍅 Trempler Family Farms hosts a CSA that is non traditional, relaxed and perfect for singles and small families. Click here to learn more. 🍓
2/5/2022 UPDATE: Thank you so much for your interest in Trempler Family Farms! If you're here for the CSA it is full. 
Didn't get into the 2022 CSA? At times, emergencies arise or life happens and a person needs to cancel their CSA early or miss for an extended period of time. Are you interested in being on a non-traditional & relaxed $15-$25/week CSA waitlist? If you'd like to join the waitlist please email me at tremplerfamilyfarms@gmail.com. Then check out the CSA page.
Additionally, I now accept Kuto as a payment form.
CSA members click here for CSA details. 
The Tuesday Farmer's Market is at 1465 SE Alexander Ave in South Corvallis from 5pm-7pm. I accept cash and credit, Kuto, as well as payment apps at the market. The market will begin again on May 3 2022 and ends on October 25th.
I've partnered with other farms to provide products I don't offer. These products include: eggs, honey, rice, coffee and cookies. Please click here for more info and pricing.
👉Remember to take a look to the right of this screen for Trempler Family Farms closures and events. 👉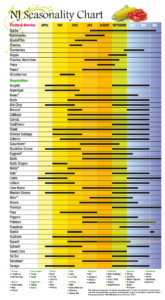 The above chart was designed for NJ, but lines up with our seasons very well.
Share This: